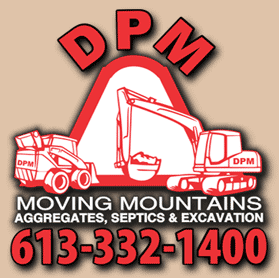 Frequently Asked Questions:
Q: Do you design Septics?
A: All Septic designs are made in house by our Operations manager.

Q: Are you fully insured?
A: Yes, DPM is fully insured and fully licensed. We are registered with the Ontario Ministry of Housing & Municipal Affairs (Septic Design & Installation Company BCIN #: 35992), the Ministry of Environment (Certificate of a Waste Management Approval System #: 6011-8P6QUZ), LOGIX ICF Systems and WSIB (Workplace Safety & Insurance Board).

Q: Do you charge for estimates?
A: DPM still believes in good customer service, in doing so all estimates are free.